Please feel free to contact us with any questions or if you wish to discuss your requirements after watching our video for the month of October 2023
You can also read the transcript to the video further down this page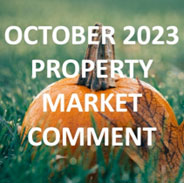 Welcome to the October 2023 property market comment.


And it's a fairly important one if you are selling. You may have heard that house prices have fallen every month for the past six months, according to the Halifax, and many economists believe they are set to fall further in the year ahead – some say by up to 10%. This is mostly due to the market playing catch-up, following 14 consecutive interest rate rises in nearly two years. 
However, I think we can tentatively say that interest rates have now probably peaked and may slowly fall over the medium to long term. But we'll be left with higher borrowing costs for the foreseeable future, and this will be especially painful for those beginning to come off a low-cost fixed-rate mortgage.
The economy is certainly a bit stronger than expected but don't expect house prices to rocket any time soon. We have a general election next year and an increasing amount of stock on the market. Fortunately buyer demand is creeping back, but these buyers recognise that they are in a strong position, and they are careful about what they buy, and how much they pay for it.  
So if you're selling, especially with the winter ahead of us, now is not the time to try your luck with an ambitious asking price. Don't get me wrong, we are actually achieving some remarkable prices, but let's use your asking price to attract buyers with whom we can negotiate. An inflated asking price does not mean an inflated sales price. In fact, the opposite is usually true.
Bear in mind also that, nationally, about one in four property sales falls through prior to exchange of contracts. As house prices fall, this could get worse, as buyers, who typically have to wait about four months to exchange, realise that they are now paying over the odds as their purchase has effectively fallen in value since the deal was first agreed. So it's critical that you engage a conveyancing solicitor as soon as you put your property on the market. It's not rare for us to find a buyer within the first few days of marketing and it's so frustrating to find that there's no buyer's pack in place. So please do get this organised quickly, and certainly before a buyer is found. Make it easy for a buyer to buy your home, so you can move on too. Please do involve us in this, as we'd love to help you get everything in place for a speedy move, and you might be pleasantly surprised. 
©Copyright 2023
Richard Rawlings except as excluded under licence.