Please feel free to contact us with any questions or if you wish to discuss your requirements after watching our video for the month of November 2023
You can also read the transcript to the video further down this page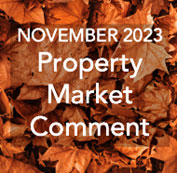 Welcome to the November 2023 property market comment.
We've just heard from the Halifax and the Nationwide that average house prices surprisingly rose by around 1% last month, reducing the annual rate of decline to about 3%
This might seem to be a beacon of hope for the property market, but the economists suggest that this small rise may be an anomaly and is unlikely to be sustained, particularly when we consider that mortgage approvals are more than 30% below their five-year average.
According to Rightmove, transaction volumes are also down, by about 17% on this time last year, and 25% down on their long-term average. They tell us that about 37% of all listings have had to reduce their asking price, which is such a shame as properties that have been reduced take twice as long to sell, and are twice as likely to fall through.
Fortunately our own figures are way better than that, but it does highlight the importance of correct pricing – in fact pricing for tomorrow's market, not yesterday's is key. Just like you shop around and buy petrol at today's price, irrespective of what it was last month, so buyers are comparing your property with others available for sale now! And if over a third of those have been reduced, then you must use that information to inform your asking price so that your property competes with others on the market. It's true to say that only when the buyer gets the best house for their price, does the seller get the best price for their house!  
However, one of the reasons we don't believe there will be a house price crash any time soon, is that there is still not enough stock on the market for the balance of supply and demand to swing fully in the buyers' favour. So if you're thinking of selling now would actually be a pretty good time, especially as we'll soon be hitting the Christmas rush, when potential buyers browse the portals during the break and are often prompted to take action (with a bit of nudging from us!). Why not call us and we'll show you how you can take advantage of this. You might be pleasantly surprised. 
©Copyright 2023
Richard Rawlings except as excluded under licence.